Trades her car for a broomstick on occasion.
Takes the staff on frequent roller coaster rides.
Welcome to the world of Lois!
The world's leading "indiscriminate clicker".
Lois Carrier CFP®, AIF®
President & CEO
Is known to have multiple alter egos.
Guards his chicken with his life.
Watch out for the clown inside!
Can't seem to remember lunchtime.
Frequently channels Tim Conway.
David Maurice, CFP®
CIO & VP
Dabbles in guitar playing
Andrew Worley
Associate Advisor
The office hound—she will never give up on the chase.
Our affable people person!
Transformed into a vegan overnight!
Bonna Moyer
Client Care Specialist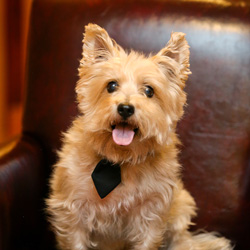 Also voted most effective beggar.
Our company food disposal.
Theodore
Chief Morale Officer
The Lois & David Story
Partners both in business and in marriage, we believe that loving and authentic relationships are key to success in all aspects of life. As we began our journey in this profession, we found ourselves blessed to be in the company of some of the "giants" of the profession. We thrived under their mentorship as we absorbed their knowledge, wisdom and, most importantly, their love, respect and passion for financial planning.
The following thirty years brought us the joy and satisfaction of beginning new journeys with purposeful savers, traveling with them into successful retirement transitions. We are honored by these experiences and relationships with our peers, our WorthWhile Wealth team and allied professionals. And, we enthusiastically invite you to embrace these gifts and tools to move toward your own vision of WorthWhile Living.